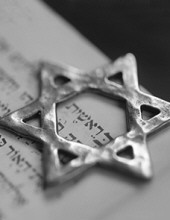 Obituary for Dr. Boaz Gelernter
Dr. Boaz Gelernter, 96, of Elberon, died peacefully in his home on March 09, 2018.

Dr. Gelernter was born in Vienna, Austria in 1921. His parents, Jonah and Sara Weinberg Gelernter, were prominent Zionists. In 1939, a year after Austria became part of Nazi Germany and six months before World War II began, he fled from Vienna at age 17 with his brother Gideon. Dr. Gelernter served honorably in the US Army in WWII, becoming a US citizen while fighting in the Pacific at Guadalcanal. Orphaned by the Holocaust, he went on to obtain a Bachelor's degree from Columbia University, Master's degree from Rutgers University, and PhD in Electrophysics from Brooklyn Polytechnic. Dr. Gelernter was an electrical engineer for the US Department of Defense at Fort Monmouth, Evans Area, and consulted at Georgia Tech. He was the inventor on two US patents for advances in antenna and radar technology.

His loving nature, kindness, profound intellect, strength of character, impeccable manners, charisma, resilience, vitality, optimism and unquenchable zest for life impressed everyone who knew him. He swam, alpine skied and hiked into his ninth decade and beyond.

Dr. Gelernter was a devoted and dearly loved husband, father, grandfather, brother and uncle. He is greatly missed.

Dr. Gelernter was predeceased by his beloved wife of 62 years, Gertrude Zinman Gelernter, his brother Gideon Gelernter and his parents, Jonah and Sara Weinberg Gelernter.

Surviving are son, Eugene Gelernter and his wife Patricia Koch; daughter, Celia Sara Gelernter and her husband Stuart Sealfon; and grandchildren: Rebecca Sealfon and her husband David Slakter, Rachel Sealfon, Adam Sealfon, Jessica Gelernter, and Elizabeth Gelernter.

Donations in his memory can be made to HIAS, the American Technion Society, or the American Committee for the Weizmann Institute.